Marine Motion Sensor
The IMU-00x range of motion sensors refer to the products:
- IMU-007, roll / pitch
- IMU-007-30, submersible roll / pitch
- IMU-008, roll / pitch / heave
- IMU-008-30, submersible roll / pitch / heave
The marine motion sensor IMU-00x series is SMC's compact and rugged product range designed for Marine installations and optimized for Dynamic Positioning, Vessel Motion, winch heave compensation as well as hydrographic systems. Solid state gyros and linear accelerometers are used in the IMU-00x motion sensors to provide real time motion measurements with precise dynamic accuracy.
Dimensions
SMC's IMU-00x motion sensor range is small and compact in its design. The motion sensor body height is 7cm with the mounting plate base measured 13x13 cm.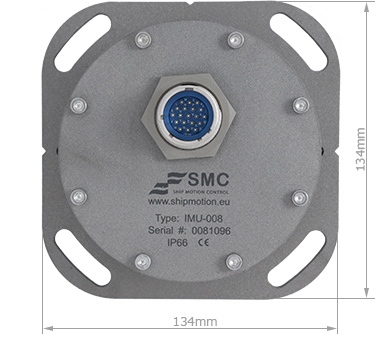 Design
From initial development to final design SMC has taken account of the specific hazards and environmental factors of the Marine offshore environment. Durability, low maintenance, ease of install for out of the box installation without the need for add-on purchases. The IMU once installed should be reliable and a secure source of data.
Titanium Material
The casing material used in all of our IMU-series is Titanium. The most useful properties of Titanium are its high strength, low density and corrosion resistance in the Marine environments the motion sensor works in.
Mounting plate
The IMU-00x motion sensor is designed with a mounting plate as a part of its casing. This base plate has been specially designed for ease of installation and by allowing a freedom of movement around the mounting fixings an accurate mechanical alignment can be made that is critical for good motion performance and accuracy.
See Accessories for additional mounting bracket options.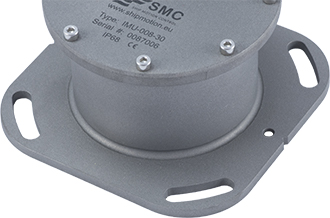 Subsea Motion Sensor IP68
The IMU-008 and IMU-007 are available as submersible motion sensors, depth rated for 30 meters. The submersible versions of the SMC motion sensors are using the Seacon Wet Mate Connector with IP68 classification for continual immersion in water.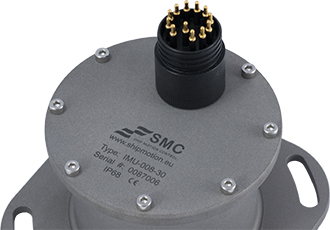 Motion Sensor IP66
The marine motion sensors IMU-008 and IMU-007 are designed for surface installations. The motion sensor is fitted with the Amphenol Lite IP66 rated connector. The connector on the motion sensor is a standard available part with a long term supply. This makes it easy for the IMU motion sensor users to source the cable and connector from SMC or other suppliers. The IP66 classification protects the IMU from direct water jet spays or general external harsh weather installations.